---
---
By Kim Fuller                                                                                    Published in Snowshoe Magazine 
Puffy is back … at least that's what I decided as soon as I slid my arms through the feather-light sleeves of the Helios Hooded Jacket and zipped up a wall of fluff over my torso.
This jacket from Feathered Friends is their classic Helios design, with an added hood for extra heat. It's their warmest sewn-through jacket at 850+ fill goose down, and it's designed to be packable and light, which it is at less than 8 ounces.
At first sight, I thought the jacket was going to be too bulky to wear comfortably, but putting it on reminded me why down jackets, even the puffiest ones, will never go out of mountain style. I tried the men's small, and with plenty of room to move in it, it hugs me in nicely. I've always loved sliding into sleeping bags, and the Helios design and fit is reminiscent of that warm cocoon.
The warmth of the jacket is amazing, so you'll only want to wear it between sweaty endeavors, or when you're out in a lot of element exposure. The shell fabric is water-resistant, so it's great for snowshoeing on a cold snowy day or a windy ridge, and its ideal for staying cozy after the body goes through the hard push to a backcountry hut or after completing a snowshoe race.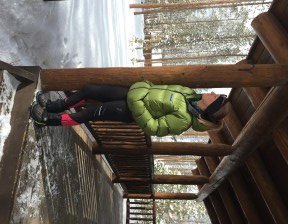 The Lycra-sealed "hand-warmer pockets" are perfect for slipping your hands into for fast warmth and offers easy and quick storage for a cell phone, small camera, chapstick or sunglasses. The jacket also has a zippered internal stash pocket that's useful for money, credit cards, I.D.s, etc.
The Helios is very packable, especially when you easily push it into its 5-liter stuff sack. I recently packed it with me on a socked-in January day, anticipating a rigorous uphill snowshoe to an exposed lookout point. As I had anticipated, I pulled out the Helios from its sack once we got up to the ridge, and I wore it as I hiked. Once we reached the lookout and stopped moving, I pulled the hood over my head and zipped the jacket up to wrap around my chin and cheeks. It was truly the perfect cozy companion for that wintery moment in the mountains.