---
---
By Kim Fuller                                                                                       Published in Snowshoe Magazine
Twice a week throughout the year (minus mud seasons), a local group of runners and hikers rise with the sun to hit the steep on Vail Mountain in Colorado. Ellen Miller, accomplished mountaineer and endurance coach, leads the sessions out of the Vail Vitality Center.
The workouts are rigorous, so bulky clothing doesn't work well. During the summer months, there were mornings I was in shorts, and others when I wore a light calf-length tights, but winter is an entirely different experience.
At this mountain elevation of 8,500 feet, most morning are cold, and some mornings fall well below freezing. Traction spikes on shoes are a must to grip the corduroy,  along with efficiently warm top layers and usually a light down jacket. Warm socks, hats and gloves are a must, and sometimes full-face masks are a necessity.
My legs are usually the last part of my body to chill, especially when they're moving uphill, but after going to a couple sessions amidst a cold front in early November, I knew I needed to bundle more.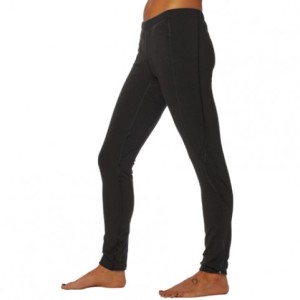 The SportHill Saga II 3SP women's tight are very dense, made with 90 percent polypropylene and 10 percent spandex. They have a soft inner lining with a durable, soft shell exterior. The elastic waistband with a drawstring keep the pants comfortably high above my hips and beneath my top layers, even as I shuffle up the slopes.
I wear small gators on these early morning runs, although the tights have gripper elastic inside leg hems which keep them down around my ankles, and the 7-inch ankle zips make it easy to put the tights over thick and tall socks.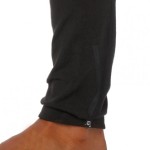 The chafe-free inseams have proven to be smooth on my skin. There's one piece of improvement I would request, and it's a more intentional place or size for the inside key/card pocket. My car keys don't fit in the one in these tights, and I can never be bothered to take one key away from the bulk to fit in the small pocket. I prefer a zipper pocket that's slightly bigger and sits on the low back.
These are SportHill's warmest tight, and they've kept me warm and comfortable through bouts of both intervals and recoveries. I used the tights as a base layer on a recent endurance-style snowshoe during blizzard-style conditions, and I like how the thick fabric stayed close and cozy to my skin.
The pants are machine washable, which is great, but be sure to hang dry them. The fabric should not come in contact with high heat from dryers or space heaters.
For more information on these tights and more SportHill products, visit www.sporthilldirect.com.