---
---
By Kim Fuller                                                                 Published in Snowshoe Magazine
Sometimes the best backcountry experiences aren't all that far from home. Tennessee Pass is an easy-to-access area located near Leadville at the base of Ski Cooper, featuring a Nordic center, cookhouse and sleep yurts for anyone looking to have a unique and memorable time in the Colorado mountains.
Along with a dynamic system of cross-country skiing terrain, the trail system includes ungroomed snowshoe trails that track through groves of trees and meadows of glistening powder.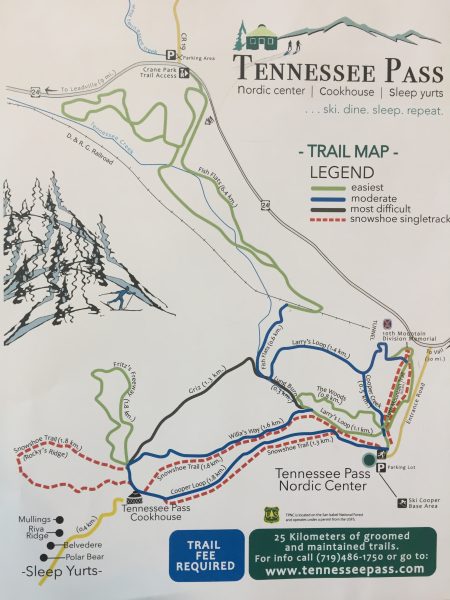 We set out to explore the area and stop of lunch on a sunny Sunday in February. It was easy to simply pull up and park at the Nordic center, and the coffee bar serving warm drinks and pastries was a welcome first stop in the high-beamed mountain lodge.
The staff was incredibly helpful and outfitted us with a map and recommendations for which trails to hit before and after lunch. We brought our own snowshoes and poles, although the Nordic center does have snowshoes available to rent. Daily trail passes are $15 for adults and $10 for kids and seniors (kids 6 and under are free).
Those looking for full service cozy lunch or elegant evening can head a mile from the Nordic center or a third of a mile from the yurts to the Tennessee Pass Cookhouse. There's a snowshoe trail loop that takes you out and back to the cookhouse, as well as a trail on Rocky's Ridge that is a nice pre or post-lunch option.
Whatever route you do take, you'll work up a high-altitude appetite for a meal. Two lunch seatings are available — but only on Saturday and Sunday — at 12 p.m. and 1:30 p.m. The cookhouse is a large yurt that sits on the top of a wide open meadow overlooking the mountains. The atmosphere and service are as warm and welcoming as the scene set here. Guests can enjoy a drink on the large outdoor deck overlooking expansive views, and then head inside to settle into the wood furniture and rustic decor.
My lunch date and I each enjoyed a Colorado craft beer on the sunny deck. We chose a true winter-weight brew from Odell, the Cutthroat Porter. It's rich body yet sharp finish seemed perfect on this crisp bluebird day.
At noon, we stepped inside and were seated at a cozy two-top on the perimeter of the round interior. We each ordered off the menu with plans to share. We had the bison burger, complete with roasted potatoes and freshly steamed veggies, and also the salad and soup combo — on this day a tasty bowl of chicken tortilla and a beet, pecan and goat cheese salad. There is not a set price for lunch, as each menu item is priced individually.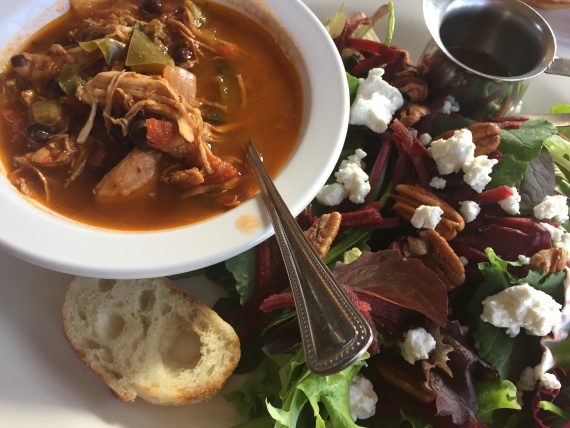 Lunch chef Taylor Auringer was polite and enthusiastic when we met him, and he explained how everything served at the cookhouse is homemade.
"We don't use artificial stuff," he explained. "All our burgers are pattied the day-of — right before we come up here — and everything is cooked to order, so we're not cooking things and letting them sit."
The food was as hearty and delicious as it was fresh, and a truly perfect addition to our snowshoe adventure. In an effort to linger a little longer in our indulgent contentment, we ordered the house dessert speciality: Roxanne's Cookie — a homemade oatmeal treat filled with a mix of cranberry-raisins, white chocolate chips and walnuts, served warm with vanilla ice cream. This and a mug of coffee defined a perfect sweet ending to lunch, and just enough buzz to get us ready for the snowshoeing that would be coming soon.
Dinner is served at the cookhouse throughout the week, and snowshoers can come up just for the evening or can stay overnight in a sleep yurt. The candlelit dinner serves a menu of Colorado cuisine that includes appetizers such wild boar sausage, and entrees like elk tenderloin, rack of lamb and rainbow trout, and complete with bottle or by-the-glass selections from an extensive wine list.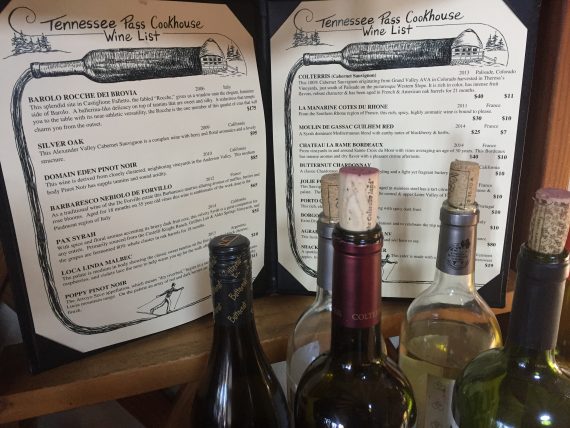 Dinner at the cookhouse is $85 per guest, excluding alcohol, tax and gratuity, and reservation are required.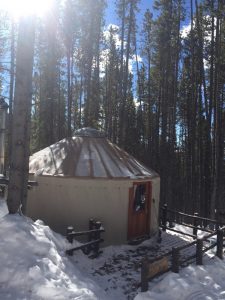 For overnight guests, the sleep yurts are located 1.3 miles from the Nordic center, and rent for $225 a night for up to six guests (with three beds in each). Full linens and down comforters are provided, so there's no need to bring a sleeping bag.
Owners Ty and Roxanne Hall welcome anyone to come up and play here—whether or not they have any Nordic, backcountry or even wilderness experience. "It's a really good stepping stone for people who have not done any backcountry stuff but want to see what it's all about," says Ty.
The winter season for the sleep yurts, cookhouse and Nordic center runs seven days a week through mid-April. For more information, visit tennesseepass.com.